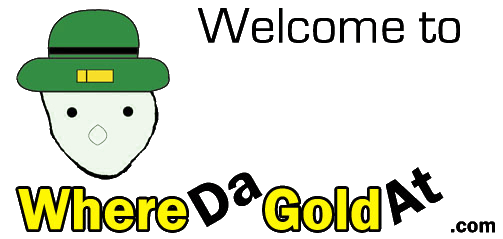 The internet's #1 resource for information on the Mobile Alabama Leprechaun sighting.
Share
The Facts
Some of Alabama's finest citizens spotted a leprechaun in a tree located in the Crichton area of Mobile. As word spread, masses of people poured out to see the leprechaun and in some cases, attempt to confiscate his leprechaun gold. Local news teams were dispatched to the leprechaun tree site multiple times. Despite their best efforts they have been unable to capture the leprechaun on camera.
At WhereDaGoldAt.com, we are dedicated to uncovering the truth behind this important story. Throughout history, leprechauns have been regarded as mythical entities. Proof of the Mobile leprechaun's existence could change that and provide hope to those investigating similar phenomena such as unicorns and mermaids.
There are several credible theories circulating which explain what people have been witnessing in Mobile. The current top explanations are:
A crack-head who got hold of the wrong stuff and was told to "play a leprechaun." -this theory was offered by a Mobile resident who was interviewed by one of the news teams covering the story. It has gained support from many investigators who have noted that there is indeed a widespread crack-usage problem in the area.
"Casting a shadow from the other limb." -Many skeptics have jumped aboard this theory, pointing out that when light is directed at the tree the "leprechaun" is no longer visible.
There is a pot of gold under the leprechaun tree. -Many visitors to the leprechaun-tree site seem more concerned with the possibility of uncovering gold than with actually seeing the leprechaun. One local citizen is planning on uprooting the tree via rented backhoe in order to determine if there is in fact a pot of gold under the tree. This plan has been delayed several times due to funding issues. An application to obtain Economic Stimulus funds for the project is pending.
Videos
The original news report aired after thousands of people came out to try and see the leprechaun. Traffic became backed up on all of the nearby roads and people living in the area began charging for parking. Some even volunteered to help direct traffic after properly preparing themselves with protective gear to ward off any spells. At the time of this story, few people had actually seen the leprechaun, mainly due to the fact that he only comes out at night and vanishes when light is aimed in his direction.

After the original story aired, even more people ventured out in search of the leprechaun and his gold. This follow-up story reveals more details about the leprechaun, including the fact that he tipped his hat towards a young girl and made at least one day-time appearance. Off camera, several Mobile residents explained that they had been dancing jigs and playing the special leprechaun flute for several hours and believe that it is the cause of his unusual behavior.
See more videos, songs, and more on the Alabama Leprechaun video page!
Pictures
The famous leprechaun tree.

Spotted on a bill received in a Mobile restaurant

The original amateur sketch.

Fan submitted pictures can be found

here

.
While forensic evidence proves that the leprechaun is good (not like the evil one in the Leprechaun films), Mobile residents are taking drastic steps to prepare for their encounters with the leprechaun. Many in the Crichton community have been sporting special clothing that wards off leprechaun spells. One cautious individual has even brought out a rare leprechaun flute which was reportedly passed down thousands of years from his great-great-grandfather who is Irish. Tracking down the leprechaun has proved difficult, as it only appears at night and has found a way to hide itself whenever light is pointed at it.
WhereDaGoldAt.com - Alabama Leprechaun Info
WhereDaGoldAt.com is the top resource for information on the leprechaun that hides in a tree in the Crichton area of Mobile Alabama. Our investigative team will not rest until the leprechaun is captured and the gold is found!
Seen the leprechaun? Email:

Get a shirt, available in sizes up to 3XL!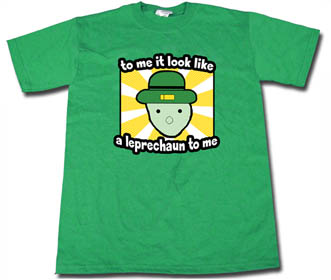 Green Like a Leprechaun shirt (100% Cotton)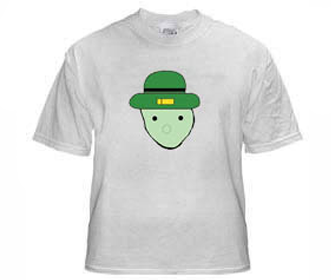 Alabama Leprechaun T-Shirt (100% Cotton)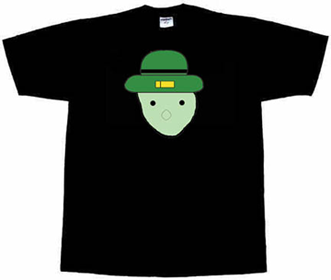 Black Alabama Leprechaun T-Shirt (100% Cotton)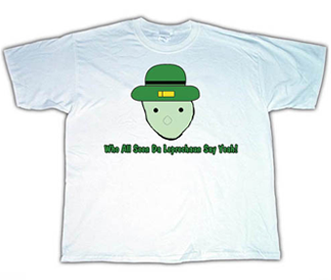 "Who All Seen Da Leprechaun Say Yeah!" T-Shirt (100% Cotton)